Conference Hotel
Sheraton Centre Toronto Hotel
April 27-May 1, 2019
123 Queen Street W
Toronto, Ontario  M5H 2M9  Canada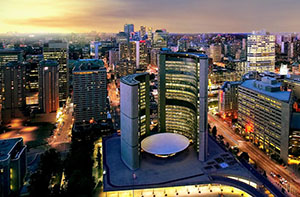 Travel
Travel Advice to Attendees and Presenters

Be sure your passport is up to date for 2019 international travel. Complete details are available at https://www.usa.gov/passport

If you have questions about travel documents to Canada or if you live in the United States and have questions about travel documents you may need to return to the United States the sources below may be helpful. Information on travel documents for traveling to Canada can be found at the following links. Requirements vary based on country of citizenship:

http://www.cic.gc.ca/english/visit/visas.asp 
http://www.cbsa-asfc.gc.ca/travel-voyage/td-dv-eng.html 
http://www.cbsa-asfc.gc.ca/noncan-eng.html 
https://travel.state.gov/content/passports/en/country/canada.html 

Returning to the United States

If you are not a US citizen or lawful permanent resident, you may also need a valid visa or travel document to enter the United States after the conference. Foreign nationals in student or exchange visitor status should communicate with the international office at their home institution prior to any travel outside the United States. Others may wish to speak with an immigration attorney if there are questions about reentry, particularly in light of the executive order instituting a travel ban for particular foreign nationals as well as the changes in the DACA program. Information on travel to the United States is available here: https://travel.state.gov/content/visas/en.html
Toronto, Ontario
Welcome to Toronto, a continental gateway and international crossroads where people love to meet. Toronto is one of the world's most cosmopolitan cities. Warm, welcoming, chic, elegant, and vibrant, Toronto is a city that celebrates life in all dimensions. As one of the most multicultural cities in the world, Toronto is enriched by an exciting fusion of traditions, passions, flavors and perspectives of the over 100 cultures that live here. Global cultural influences converge with that unique dash of Toronto hospitality and flair, resulting in an amazing line-up of spectacular event venues, hotels, over 9,000 restaurants, fashion, entertainment, culture, arts, shopping, attractions, events, festivals, neighborhoods, and architecture. Nightlife and entertainment abound with 200 dance and theatre companies offering everything from mega-musicals to avant-garde works. A city of contrasts, Toronto's skyline features a juxtaposition of glittering skyscrapers, the CN Tower (a Modern Wonder of the World), historic facades, beautiful parks, miles of waterfront, boardwalks, and trails. Beyond city limits are breathtaking attractions, such as Niagara Falls, a renowned wine region, outstanding theatres, and outdoor adventures—all within a short drive. For more information, visit http://mtm.seetorontonow.com/stfm19/ 
Recognizing the Indigenous Lands and People of Canada

For thousands of years the place where the City of Toronto is located has been a crossroad where many peoples have met and had fruitful exchanges. According to some Indigenous knowledge keepers, the word "Toronto" comes from the Wendat term for a fishing weir constructed of sticks standing in the water. Lake and river fishing has been an important activity for the area's many Indigenous peoples, including Huron-Wendat, Haudenosaunee, Mississauga and Chippewa. The Indigenous knowledge frameworks and laws of the peoples of this area encourage a multilayered understanding of an item such as a fishing weir in terms of its natural, sacred, practical and social meanings.

The area continues to be home to many Indigenous people from all over Canada and beyond, but Toronto has also been shaped by immigration flows from many parts of the world, with about half of its current residents being born outside of Canada.

We acknowledge that the land on which we gather is the traditional territory of the Haudenosaunee and, most recently, the territory of the Mississaugas of the New Credit First Nation. The territory was the subject of the Dish With One Spoon Wampum Belt Covenant, an agreement among the Iroquois Confederacy and the Ojibwe and allied nations to peaceably share and care for the resources around the Great Lakes. This territory is also covered by the Upper Canada Treaties.  Today, the meeting place of Toronto (from the Haudenosaunee word Tkaronto) is still the home to many Indigenous people from across Turtle Island and we are grateful to have the opportunity to work in the community, on this territory. 

What is a Land Acknowledgment? 
A Land Acknowledgment is a formal statement that recognizes and respects Indigenous Peoples as traditional stewards of this land and the enduring relationship that exists between Indigenous Peoples and their traditional territories. 

Why do we recognize the land? 
To recognize the land is an expression of gratitude and appreciation to those whose territory you reside on, and a way of honoring the Indigenous people who have been living and working on the land from time immemorial. It is important to understand the longstanding history that has brought you to reside on the land, and to seek to understand your place within that history. Land acknowledgments do not exist in a past tense, or outside historical context: colonialism is an ongoing process, and we need to build our mindfulness of our present participation. It is also worth noting that acknowledging the land is Indigenous protocol. For more information, visit www.lspirg.org/knowtheland

The Society of Teachers of Family Medicine hopes that our meeting in Toronto will be creative and fruitful, in keeping with the traditional use of this land as a gathering place, and that visitors to the area will take the opportunity to make new connections not only with one another but also with diverse local communities.