STFM CFAS Representative
Irene Gutierrez, MD, MPH, Dignity Health FMR, Henderson, NV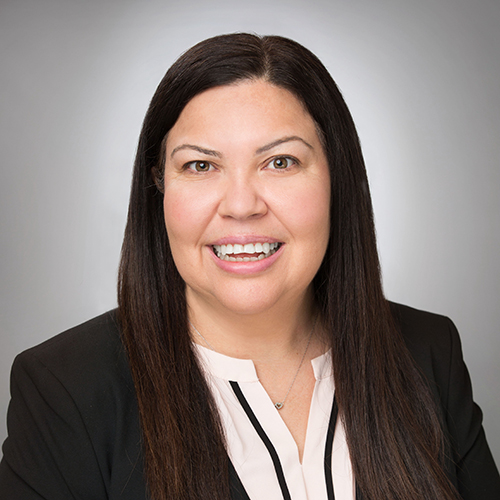 Personal History
Dr Gutierrez grew up on a small farm in Southeastern Arizona. She is a first-generation college graduate and attended the University of Arizona for undergraduate, graduate, and medical school. Dr Gutierrez completed her residency training in family medicine at the University of New Mexico in Albuquerque, NM. She completed a faculty development fellowship at University of California-San Francisco. One of the things she is most proud of is completing the AAFP Leading Physician Well-being Certificate program which gave her a meaningful toolbox around well-being and leadership. She hopes to use this in everything she does in the future to advocate for physician well-being. Dr Gutierrez has served in many different leadership capacities within hospitals, clinics, and residencies but always with a focus on academic medicine. She is currently a Founding Program Director with Dignity Health St. Rose Dominican Hospitals in Las Vegas, NV. She has special interests in hospital medicine, procedures, population health and social determinants of health. She has a goal of influencing undergraduate and graduate medical education to have diverse providers to better reflect the population of their patients. She has been involved in mentorship programs to influence pipelines for under-represented minorities in healthcare from elementary and high school students.
She has been married to Chris for 13 years and they have 3 four-legged children Ralph-E, Roscoe and Rylee. She enjoys the outdoors when not reading ACGME requirements as her past-time.
Position Statement
Serving as the STFM representative to the AAMC Council of Faculty and Academic Societies would be an honor. The pandemic has uncovered many issues facing patient care, medical education and the societies that represent us.  This has brought to light several important areas of focus:
Diversity, equity, inclusion, and antiracism in medicine

How medical schools are teaching this and living this
How we as providers are incorporating these issues into the care we are providing and the disparities we are addressing
How we as an academic society are teaching and living it

The future and Re-envisioning of family medicine that has been proposed by the ACGME and ABFM

What will our specialty look like in the future and how can we preserve our unique identity
How can we keep medical students interested in family medicine
How can we better engage in the pipeline of learners and identify and nurture those interested in family medicine

University based vs Community based programs

How do we move to highlighting strengths of programs regardless of their setting
How do we show value and advocate for all programs
One of the important lessons we have learned from the pandemic is that we must be adaptable in our approach and be willing to be flexible in our views. While we all may have our own missions and focus areas, these can change and will change according to the needs of the greater whole. I am delighted to be a part of this community that will continue to help me grow and evolve and better represent the organization, medical learners and ultimately our patients.
Answers to Candidate Questions
What actions does STFM need to take to move STFM toward the goal of being the indispensable professional home for all family medicine educators?
In large part, I believe that STFM has already reached this goal.My experience with both undergraduate and graduate level educators is that they already communicate that STFM is their academic home. That being said, there is always room for growth to facilitate cohesion.
Continuing to evolve in important areas such as increasing URM representation will be important. In addition, continuing to engage your audience will continue to serve you well.
Choose one or two key challenges you anticipate that STFM will face in the next 3 years and describe a potential course of action to address each challenge
One of the key challenges will be assessing the role that STFM plays in addressing Diversity, Equity and Inclusion. While there are ongoing initiatives currently, it will be important to move beyond having objectives around mentorship, leadership, pipelines and scholarship but to assess what role STFM plays in structural racism and explore solutions. Then to utilize the expertise they gain in helping medical schools, residencies, and health systems do the same deep assessment and work toward healthier learning and practice environments.

Share your experience at bringing people together with diverse agendas and finding common ground.
I have had the privilege of leadership experiences involving bringing a diverse group together to explore common ground and improve relationships. In my role as APD, I was charged with planning and leading a DEI event in the midst of the George Floyd murder aftermath bringing together a group of about 100 people with very diverse agendas. What I've learned not only from this event but others I've led are the things that are important is always listening, knowing that a point of view isn't wrong, and welcoming people to share without judgement. Every person brings with them significant experience and value and if we can take pieces from everyone we can create something that is truly diverse and inclusive.